Wood grouse (Tetrao urogallus): habitat changes modelling in EEBIO Region in scope of the IMAGE climate change data: GLM-scenario by 2050
Kolomytsev G., PrydatkoV.
see here updated print-version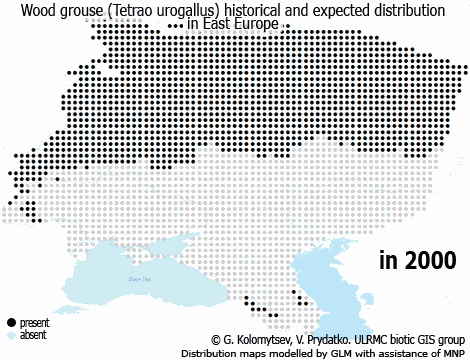 The model is published with the assistance of ULRMC, funded by 'Projection of Species- and Species-Climate Based Models on to the GLOBIO Ukraine Region, and Scenarios Development' Project according to the Contract Е/555050/01/МО (2006) between The Netherlands Environmental Assessment Agency (MNP, Bilthoven) and International Association 'Ukrainian Land and Resource Management Center' (ULRMC, Kyiv).
References
T.urodallus/EEBIO GIS (ULRMC, 2006).
T.urogallus/EcoProfile v.2.0 (MNP, 2008).
Map of the USSR European Part Vegetation, M1:4,000, 000, drawn up by Prof. J.Kuznetsov (1928) – Rus. [The map was granted by the Vernadsky National Library (Kyiv) – vectorization made by V.Prydatko, A.Ischuk, Y.Apetova, A.Kalynychenko (ULRMC)].
Forest Game Birds and Animals/USSR Forest Atlas. 1973 – Rus. [The Atlas was granted to the EEBIO Project by the Vernadsky National University Library (Kyiv); vectorization by V.Prydatko et al. (ULRMC)].
BioDAT (by A. Puzachenko). 1980s – Rus.
Vegetati on of European Part of the USSR: Analytical Maps I-IX (Attachments)/Vegetation of European Part of the USSR. S.P., Nauka, 1980.—429 pp. (Rus)
Ukraine Forest in 1990s based on Landsat Data (ULRMC, 2005)
Ukraine Forest in 2000s based on Landsat Data (ULRMC, 2005).
T.urogallus/Red Data Book of Ukraine (1994) – Ukr.
Digital Ukraine 1:500.000 (ДП-МЦЕК-МНС, 2001).
Statistics Bulletin. About Protected Areas Fund of Ukraine in 2002 (the form #1-zapovidnyk). Kyiv: SSCU, 2003.- 171 p.
Key Bird Areas in European Russia (2000) – Rus.
Birds of Europe (1999).
Prydatko V. About food web of the Carpathian wood grouse in the game-area 'Majdan'. Thesis for 7th All-USSR ornithological conference. Alma-Ata. 1978. p.54. –Rus.