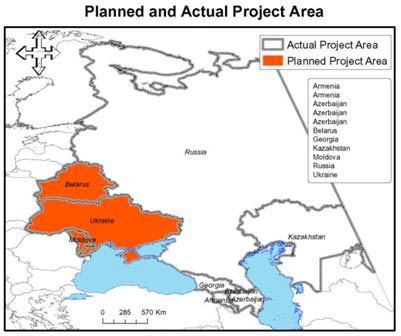 Key BioModel area include following countries: Armenia, Azerbaijan, Belarus, Georgia, Kazakhstan, Moldova, Russia (european part), Ukraine.
Special interest area is the GLOBIO Ukraine Region (GUR) by GLOBIO regional countdown. This region includes three countries (Ukraine, Belarus and Moldova). It is essential part of Europe's agricultural and natural areas, which will significantly be affected by major trends: population decline and ageing, internal migration; rapid transformation in agriculture (due to land privatization, new market situation, various policy measures in the EU), global change (climate change and sea level rise). Effects are economic, socio-cultural, and environmental, some of them are irreversible. The various changes bring about threats as well as opportunities. To identify these and to develop adequate strategies the politicians and stakeholders need to be informed timely and objectively.
The world community, including Dutch Ministry of Agriculture, the Netherlands Environmental Assessment Agency (PBL) – former RIVM, World Conservation and Monitoring Centre (UNEP-WCMC), UNEP GRID Arendal and other developed GLOBIO, Image, CLUE and other models to predict the future. (PBL has provided also several trainings for interested countries – jointly with the Netherlands International Institute for Geo-information Science and Earth Observation, and for which ULRMC leaded respective local initiative on participation of Ukrainian specialist). At the same time countries of the GUR continue usage of their own local 'models' or 'not-models' based on official statistics, but without any professional possibility to take into account methodology has been mentioned above. There is period of 'listening and reading' contrary to alternative action, which can be named as 'doing'. New attempts on the projection of species-climate based models to the GUR and scenarios development is the second step for Ukraine specially.
The Biomodel promotes this important activity for the part of GUR (Ukraine, Moldova) by way of active assessment of the society and it 'educational heart' (in Ukraine only) – ecological educational system of national level i.e. National Agricultural University. Strategically the project will take into account the two ITC's training courses on pressure based biodiversity modeling, as well as local modeling experience based on IT-approaches. It is expected that the project (to be named as EEBIO#3) will promote usage of modeling in Ukraine specially. What is more – the country has started with political process to join WTO and EU community in the nearest future.
Ukraine territory test:

View Larger Map