Assessing of climate change impact on distribution of stone moroco (Pseudorasbora parva) in Eastern Europe by 2050
G.A. Kolomytsev, Yu.K. Kutsokon
Abstract

Species distribution model (SDM) was developed to access potential impact of forecast climate change on stone moroco, Pseudorasbora parva (Cypriniformes, Cyprinidae) distribution in Eastern Europe by 2050. The modern fish distribution data and IMAGE model of climate datasets were used as input. The climate data consists of actual records and forecast by 2050 in accordance with baseline of IPCC scenario. SDM was developed using generalized linear model approach. The results of modelling show expansion of the fish specie towards North-East by 2050. It is expected that the distribution area of stone moroco will increased in Eastern Europe by 40% comparing to current situation. It is expected that new 'suitable habitats' to be appear near Lake Ladoga (to the North of project area) and within estuary of Ural River (to the East).
Key words: stone moroсo, alien, species distribution model, Eastern Europe, climate change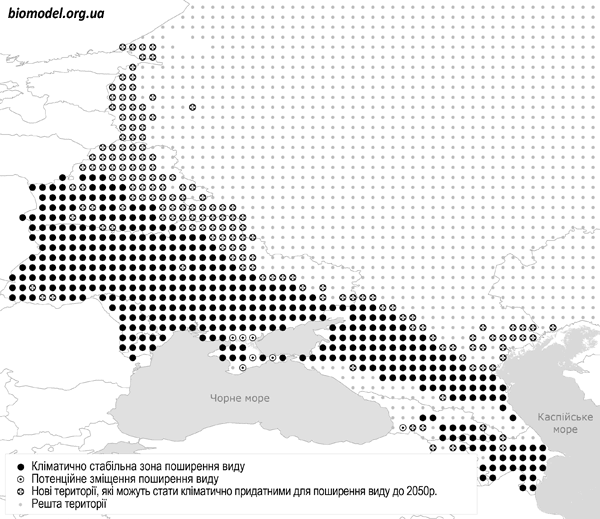 See completed version of the article in Ukrainian language.
For citation:
Коломицев Г.О., Куцоконь Ю.К. Поширення амурського чебачка (Pseudorasbora parva) в Східній Європі в умовах прогнозованої зміни клімату до 2050 року // Науковий вісник НУБіП України. Серія: біологія, біотехнологія, екологія. – 2012. – Вип. 178 – C. 9-15.