Assessing potential impact of forecasted climate change on distribution of red squirrel (Sciurus vulgaris) in Eastern Europe by 2050
G.A. Kolomytsev
Published in national scientific journal of the National University of Life and Environmental Sciences of Ukraine (Ukr) (April, 2012)
Abstract
The species distribution model (SDM) has been developed to assess potential impact of forecasted climate change on red squirrel (Sciurus vulgaris, L. 1758) distribution in Eastern Europe by 2050. The modern and historical red squirrel distribution data and IMAGE model climate datasets were used as input. The climate data consists of actual records and forecast by 2050 in accordance with baseline IPCC scenario. SDM was developed using generalized linear model approach. The results of modelling show the shift of red squirrel distribution towards north by 2050. Only 89,8% of red squirrel distribution area is expected to remain suitable in terms of climate requirements. Most territories of potential red squirrel disappearing caused by the climate change are supposed to be found in Ukraine.
Key words: red squirrel, Sciurus vulgaris, species distribution model, Eastern Europe, climate change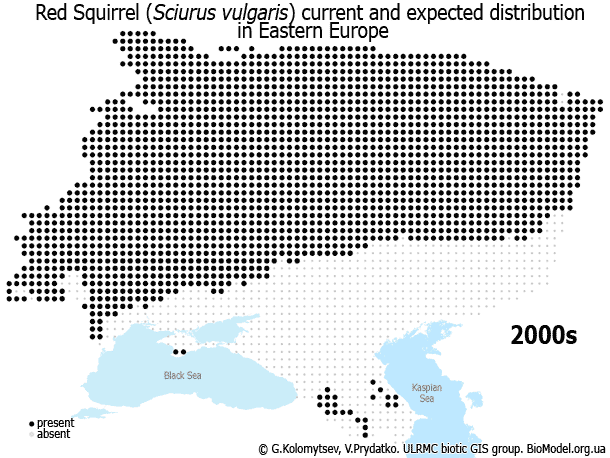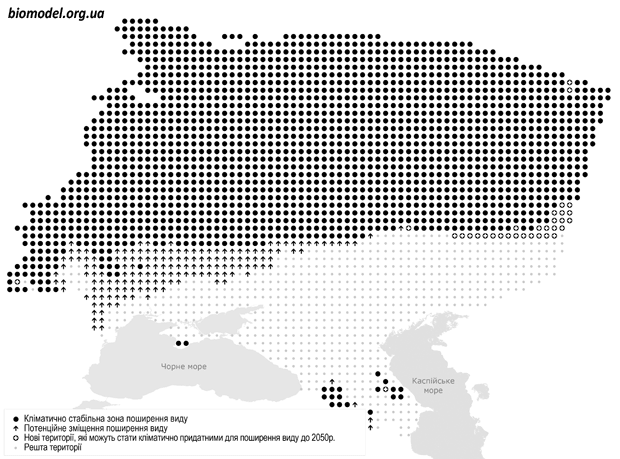 See comleted version of the article in Ukrainian language.
How to cite:
Коломицев Г.О. Вплив зміни клімату на поширення вивірки (Sciurus vulgaris) у Східній Європі до 2050 р. / Г.О. Коломицев // Наукові доповіді НУБіП – 2012 – 2 (31).
http://archive.nbuv.gov.ua/e-journals/Nd/2012_2/12kgo.pdf