"Ландшафтная экология: учебно-методическое пособие по моделированию биоразнообразия, учет влияний на него (для образовательных целей национального и регионального уровней)" Часть 1. Моделирование биоразнообразия: пример региона GLOBIO-Украина. Часть 2. Рабочая тетрадь студента, Авторы: В.И. Придатко, Г.А. Коломицев, Р.И. Бурда, С.Н. Чумаченко.—Киев: НАУ, 2008.— 200 с. Рецензенты: академик НАНУ и УААН, профессор А.А. Созинов, доктор технических наук, профессор А.И. Лысенко: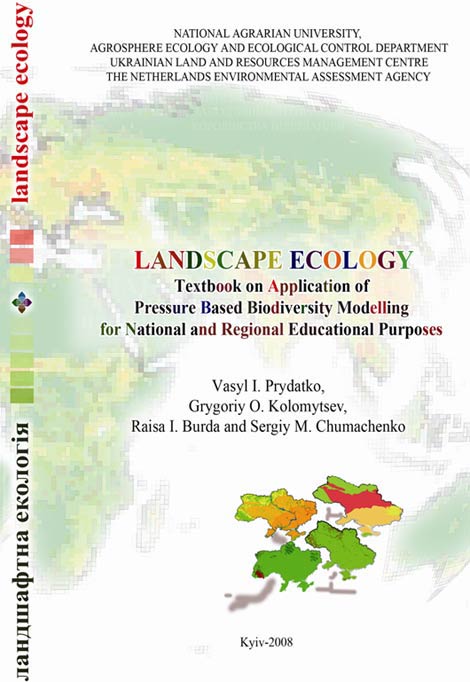 . Титульна сторінка: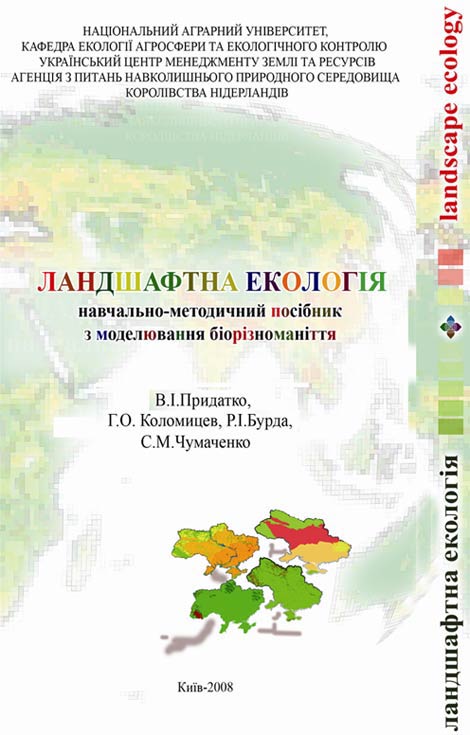 .
CONTENT (draft)
.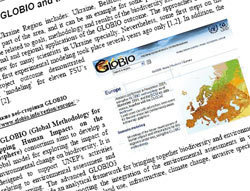 Вступ Що таке GLOBIO та методологія GLOBIO? The biodiversity assessment for the GLOBIO Ukraine Region – MNP Initiatives – The policy context (priorities and actions important for numerous Ukrainian institutions, which are interested in biodiversity) – Key questions to be answered by the biodiversity model important for the the GLOBIO's Ukraine Region – Goals Підходи до моделювання, їхня апробація та приклади щодо східно-європейського регіону GLOBIO – Моделювання із використанням індикаторів, індексів, ДЗЗ- та ГІС-аналізу (до 2006 року) – Модульна MSA та апробація на території України, Білорусі і Молдови – Моделювання очікуваної моделі MSA при впровадженні різних сценаріїв розвитку. – Моделювання мозаїки класів земної поверхні з CLUE-s, сценарії розвитку Рекомендації щодо використання моделювання в учбовому процесі (на прикладі України) – Рекомендації щодо використання моделювання в учбовому Процесі
– Блог BioModel, як довідковий інтерактивний інструмент Summary Acknowledgements Annexes References Вышла из печати книга "Ландшафтная экология: учебно-методическое пособие по моделированию биоразнообразия, учет влияний на него (для образовательных целей национального и регионального уровней). В удобном для самоподготовки и самоконтроля знаний формате, впервые для сети ВУЗ Украины, приведена история вопроса, подходы и примеры тематико-картографического моделирования биоразнообразия, с учетом влияний на него (в контексте региона GLOBIO-Украина, GLOBIO Ukraine Region), – на основе наработок как отечественной, так и зарубежных школ современной ландшафтной экологии, в их сравнении. Раскрывается современная методика GLOBIO, приводятся еще малоизвестные отечественным экологам подходы к моделированию биоразнообразия – это MSA, CLUE, EEBIO, LCCD_Bio, RS-GIS и др. После каждого раздела предлагаются вопросы для текущего контроля знаний, в приложении даются примеры тестовых вопросов и ключ к ним, а также варианты тем самостоятельных, бакалаврских и магистерских работ. В разделе «Рабочая тетрадь» собраны описания 15 практических (лабораторных) работ. Авторами использована ссылки на 169 источников информации, которая повышает информативность издания, значимость тестовых задач, и будет помогать будущим экологам в самообразовании. Сокращенная версия пособия, переведенная на английский язык, является неотъемлемой частью этого издания. Пособие является первым целевым взносом авторов в развитие нового направления в экологии, ландшафтной экологии -биотогеоинформатики. Книга рекомендована учебно-методическим советом Факультета экологии и биотехнологии НАУ, по представлению Кафедры экологии агросферы и экологического контроля НАУ. Учебно-методическое пособие выдано при содействии УЦМЗР, за средства проекта «Development and publishing the bilingual training package on application of pressure based biodiversity modelling for national and regional educational purposes» – контракт между The Netherlands Environmental Assessment Agency (MNP, Bilthoven) и УЦМЗР. Перевод на английский и с английского языка осуществлен Л.Антоняк, Т.Сизоненко, с участием В.Придатко. Авторы и преподаватели кафедры выражают благодарность господину Ben ten Brink (MNP) и господину Tonnie Tekelenberg (MNP) – за содействие в поиске и внедрении указанного проекта, господину Wilbert van Rooij (MNP) и команде MNP, представителям Международного института геоинформатики и исследования Земли (ITC) – за методологическую поддержку и организацию тренинга украинских экологов в Королевстве Нидерланды. Pdf-версия пособия – по заказу. Художественные иллюстрации уже доступны на авторской веб-странице ArctArt.