Очікувані зміни клімату Східної Європи та видоорієнтовані GLM-сценарії до 2050 року: Результати проекту EEBIO
В. Придатко, Г. Коломицев
Таблиця 1. Результати створення повидових просторових моделей у регіоні EEBIO (рослини – 20, комахи – 1, амфібії – 4, птахи – 10 та ссавці – 18 видів, відповідно)
| | | | | |
| --- | --- | --- | --- | --- |
| Назва виду (лат) | Українська назва виду | GIS класифікатор | Домінуючий вплив | Очікув. тренд до 2050р |
| Acrocephalus paludicola | Очеретянка прудка | птах | Зміна клімату | ПнСх |
| Alces alces | Лось | ссавець | Зміна клімату | Пн |
| Allactaga major | Тушкан великий | ссавець | Зміни у землекористуванні | ПнЗх, ПнЗхЗх |
| Anabasis aphylla | Анабасіс безлистий | рослина | Зміна клімату | Сх |
| Anemone nemorosa | Анемона лісова | рослина | Зміна клімату | Зх |
| Anemone ranunculoides | Анемона жовта | рослина | Зміна клімату | ПдСх |
| Anemone sylvestris | Анемона снігова | рослина | Зміна клімату | ПдЗх |
| Aquila heliaca | Орел могильник | птах | Зміна клімату | ПнЗх |
| Artemisia taurica | Полин таврійський | рослина | Зміна клімату | Зх |
| Betula borysthenica | Береза дніпровська | рослина | Зміна клімату | (зникнення) |
| Betula humilis | Береза низька | рослина | Зміна клімату | без змін |
| Betula klokovii | Береза Клокова | рослина | Зміни у землекористуванні | (зникнення) |
| Betula microlepis | Береза елегантна | рослина | Зміни у землекористуванні | Пн |
| Betula obscura | Береза темна | рослина | Зміни у землекористуванні | Пн |
| Betula pendula | Береза корельська | рослина | Зміни у землекористуванні | Пн |
| Betula pubescens | Береза пухнаста | рослина | Зміна клімату | Пн |
| Betula sp. (7 species) | Берези (7 видів) | рослина | Зміни у землекористуванні | Пн |
| Bufo calamita | Ропуха очеретяна | амфібія | Зміни у землекористуванні | Пн |
| Canis aureus | Шакал | ссавець | Зміни у землекористуванні | без змін |
| Castanea sativa | Каштан їстівний | рослина | Зміна клімату | звуження ареалу, можливе зникнення |
| Crex crex | Деркач | птах | Зміни у землекористуванні | розширення ареалу |
| Fagus sylvatica | Бук (звичайний) | рослина | Зміна клімату | Пд |
| Glycyrrhyza glabra | Солодка гола | рослина | Зміна клімату | ПнЗх |
| Hyla arborea | Квакша звичайна | амфібія | Зміни у землекористуванні | Пн |
| Lepus timidus | Заєць біляк | ссавець | Зміни у землекористуванні | ПнСх |
| Lyrurus tetrix | Тетерук | птах | Зміни у землекористуванні | ПнСх, ПдСх |
| Mustela eversmanni | Тхір степовий | ссавець | Зміни у землекористуванні | Пн-ПнЗх |
| Mustela putorius | Тхір чорний | ссавець | Зміни у землекористуванні | Пн, ПнСх |
| Numenius tenuirostris | Кульон тонкодзьобий | птах | Зміна клімату | локальне розширення |
| Nuphar lutea | Латаття жовте | рослина | Зміна клімату | ПнСх |
| Nyctalus lasiopterus | Вечірниця велетенська | ссавець | Зміни у землекористуванні | ПнСх, ПнЗх |
| Nyctalus leisleri | Вечірниця мала | ссавець | Зміни у землекористуванні | Пн, локальне звуження ареалу |
| Nyctalus noctula | Вечірниця руда | ссавець | Зміни у землекористуванні | ПнСх |
| Oryctolagus cuniculus | Дикий кролик | ссавець | Зміни у землекористуванні | ПнЗх-ПдСх |
| Otis tarda | Дрохва | птах | Зміни у землекористуванні | ПнЗх |
| Oxyura leucocephala | Савка | птах | Зміна клімату | ПнЗх |
| Picea abies | Ялина Європейська | рослина | Зміна клімату | ПдЗх |
| Pinus silvestris | Сосна звичайна | рослина | Зміна клімату | ПдСх |
| Pyrgus andromedae | Метелик андромеда | комаха | Зміна клімату | локальне звуження ареалу |
| Quercus robur | Дуб звичайний | рослина | Зміна клімату | ПнСх |
| Rhinolophus hipposideros | Підковонос малий | ссавець | Зміни у землекористуванні | ПнСх та локальне звуження ареалу |
| Salamandra salamandra | Саламандра плямиста | амфібія | Зміни у землекористуванні | локальне звуження ареалу |
| Sciurus vulgaris | Вивірка | ссавець | Зміни у землекористуванні | Пн, та Кавказ |
| Spermophilus pygmaeus | Ховрах малий | ссавець | Зміни у землекористуванні | ПнЗх, ПнЗхЗх |
| Streptopelia turtur | Горлиця звичайна | птах | Зміна клімату | ПнСх |
| Sus scrofa | Кабан дикий | ссавець | Зміни у землекористуванні | ПнСх,ПдСх |
| Tetrao urogallus | Глушець | птах | Зміни у землекористуванні | ПнСх |
| Tilia cordata | Липа дрібнолиста | рослина | Зміна клімату | Пн |
| Triturus alpestris | Тритон альпійський | амфібія | Зміни у землекористуванні | локальне звуження ареалу |
| Triturus montandoni | Тритон карпатський | амфібія | Зміни у землекористуванні | локальне звуження ареалу |
| Ursus arctos | Ведмідь бурий | ссавець | Зміна клімату | ПнСх,ПдСх |
| Vormela peregusna | Перегузня | ссавець | Зміни у землекористуванні | ПнЗх |
Діаграма очікуваних трендів-2050: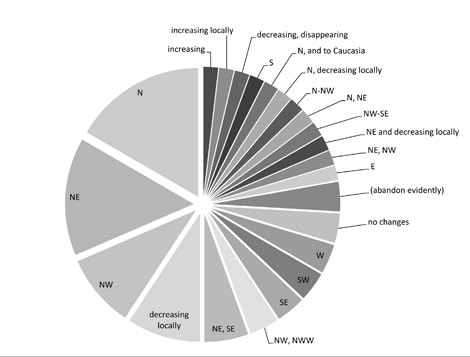 (підсумок цього дослідження був опублікований IGI)
Будь-ласка, при використанні даних цієї сторінки, посилайтесь на статтю:
Prydatko V., Kolomytsev G. Biodiversity Modelling Experiences in Ukraine /Land Use, Climate Change and Biodiversity Modeling: Perspectives and Applications. N.Y.: IGI, 2011, pp. 248-264 pp. DOI: 10.4018/978-1-60960-619-0
***
Візуалізації деяких з моделей оприлюднені на сайті у видових профайлах.
Дивіться іншу супровідну публікацію: Придатко В., Коломыцев Г. Изменение климата в Украине: потери 13% или приобретение 4% биоразнообразия до 2050 года?/BioModel, 11.11.2008
Prydatko V., Kolomytsev G. GLOBIO-Ukraine: 13%-species-loss or 4%-species-gain… (Rus.)/A4-leaflet/Climate change in Ukraine…/BioModel, 11.11.2008: