Визуализация индикативной карты индекса LCCD (LCCD_bio) со стандартной цветовой схемой MSA (градиент зелёный-жёлтый-красный – соответствует увеличению степени давления на экосистемы):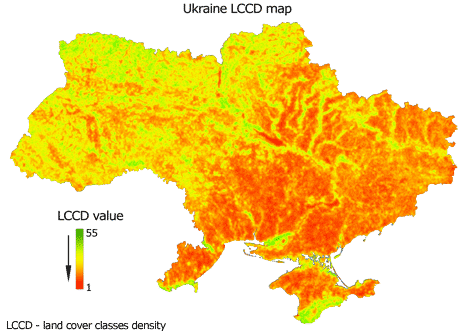 .
Индикативная карта усреднённого видового изобилия Украины: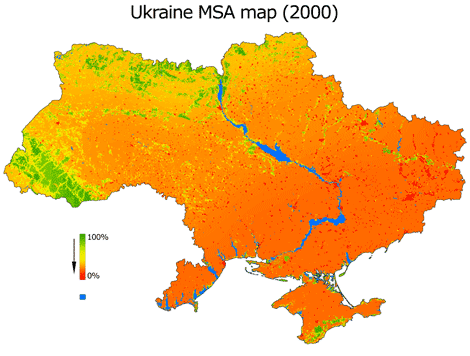 .
Сравнительный график средних значений индексов по областям Украины: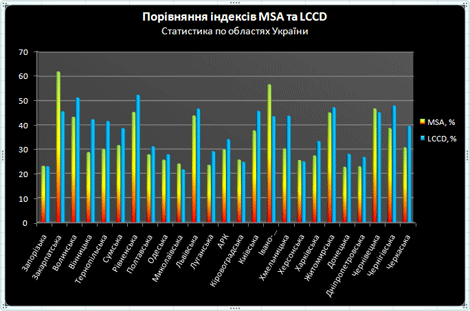 (водные объекты из расчётов исключены)
.
Сравнительная флеш-анимация индексов MSA-LCCD – открывается в новом окне
LCCD_bio – это индекс плотности классов земной поверхности. Он являеться частью индекса "Территорий с высоким разнообразием угрожаемых видов".
(Описание индекса LCCD: https://biomodel.info/?page_id=75 )
.
История использования индекса LCCD для моделлирования биоразнообразия в Украине:
1. Prydatko V. The example of usage of the land cover classification density map based on Terra MODIS (2002) for the biodiversity modeling with usage of the field survey data \Annex 2\\ Agrobiodiversity of Ukraine: Theory, Methodology, Indicators, Examples. Book 2. Kyiv: 'Nichlava'. 2005. – 590 p. (In Ukrainian). – .
2. Prydatko V. at al. Areas of high diversity with threatened species//BINU Ukraine Project Extract: National 'State of Ecosystem' Report (Agrobiodiversity), National Report on Project Experience, Guidelines for Indicator Development and Use, and IFS Examples//Агробіорізноманіття України: теорія, методологія, індикатори, приклади. Книга 2. Київ: ЗАТ «Нічлава», 2005.- C.576-579. http://www.ulrmc.org.ua/services/binu/is/PDF/Areas%20of%20high%20diversity_threatened% >
3. Бурда Р.І. Порівняльний аналіз локальних фітобіот в оціні агробіорізноманітності// Агробіорізноманіття України: теорія, методологія, індикатори, приклади. Книга 2. —Київ: ЗАТ "Нічлава". 2005.—С.165-194.
4. Prydatko V. I., Burda R.I. Practical experience on development and usage of the geodatabase on adventive plant species in the 'GIS-Agrobio'/6th Scientific Theoretical Conference of Ukraine Scientific Herbologiest Society "Plant-weeds and effective systems for protectin of crops". Kyiv, 2008.- printing. (In Ukrainian).